FROM CONVENTION TO INVENTION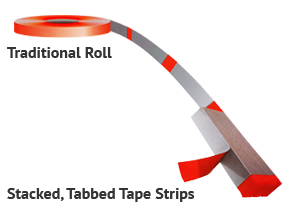 We pioneered the concept of Tabbed Tape-Strips – hence our corporate name and patented process.
Our unique service has been expanded and modified to meet distinctive challenges faced by our customers – especially end-users.
We understand that the protective liner covering the valuable double sided adhesive can present unique application concerns.
E.g. – difficult liner release from the adhesive causes stress on the bond between the tape and the substrate resulting in potential "lift-off" of the tape.
We have addressed these issues and have been able to provide assistance through our innovative resources.
E.g. – our patented T-Tab improves release and eliminates "lift-off" bond stress.